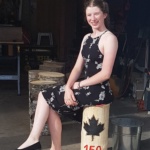 My name is CAELYN PARKER and I'm a 13 year old young woman from Berwick, Nova Scotia, Canada.
I love to create things and have decided to sell some of my homemade products in order to help raise money for my hockey.
Take a look at my SHOP and see my newest products.  Thanks for your support!